Illustrated making of PC-mobile serial interface
by
PJ & L. Padilla
Experimental setup
Here you have some shots of the construction process of the PC-mobile serial interface (click on images to enlarge). The first picture shows the workbench, you will need at least one mobile, one PC, connectors and cables, one voltmeter and it is advisable a prototype board to place the electronic components during the initial tests.
Mobile connector
The second image shows in detail the connector used in this example, but the choice is not unique, see interface main page and the two pictures below these lines. In this case the same connector of the mobile charger was used. The connector can be opened easily without damage. Only two pins are used (1 & 2), the rest are empty. You can insert cables through the holes to emulate pins in positions 3 & 4, note that you also have to connect another cable in position 2, which already has pin and cable going to the charger. The cables used in twisted pair networks (with RJ-45 connectors) seem to be well suited for our purpose. If you bend the tip in the connector, the pin will be better emulated assuring good contact with the mobile pins.
Circuit and PC connector
The circuit can be assembled within the PC connector. Here you have the sequence of steps. Note that outgoing cables can be connected to the mobile connector or, like in this case, to another intermediate connector.
Cable and mobile
Here you have the final aspect of the cable, note that it was made in sections with the help of intermediate RJ serial connectors. It was done like that to lighten the charger, so you don't have to carry the whole interface when you only need the charger.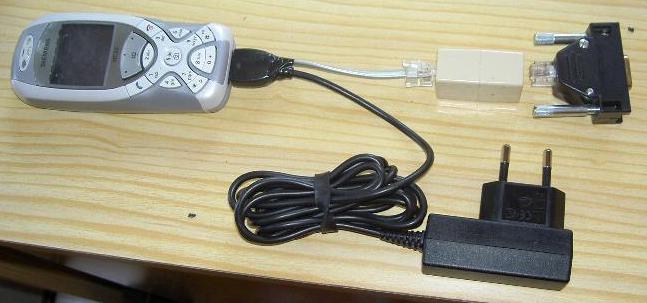 PC and software
Finally here is a picture with all together and in action. The Siemens Data Suite is running on the PC and has a connection established with the MC60. Note that the charger does not need to be connected for the interface to work.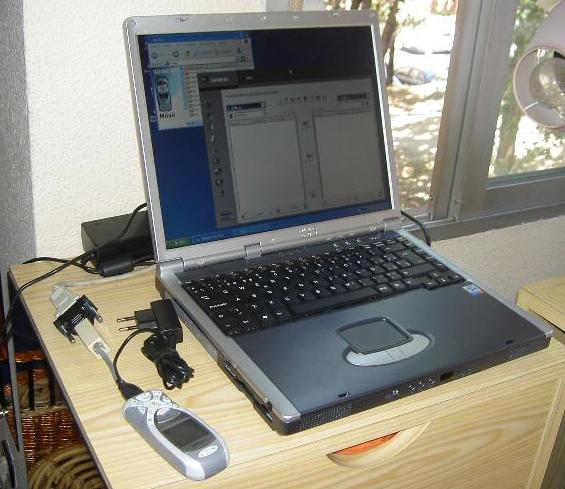 ---
E-mail: padilla at domain "gae ucm es" (my PGP/GPG public key) First version: 30-Aug-2004, last update: 4-Dec-2009
This link: http://www.gae.ucm.es/~padilla/extrawork/mobilemaking.html



Go to the parent page: PC-mobile serial interface.